China's Country Garden determined to have defaulted on a dollar bond, say media reports
Troubled Chinese property developer Country Garden Holdings Co.
2007,
-2.82%
has been declared in default on a dollar bond, missing a $15.4 million interest payment that was due following the expiration of a grace period, Bloomberg and other media outlets reported Wednesday.
The report cited a notice to holders of trustee Citicorp International Ltd. that said the missed payment constituted "an event of default." The payment was originally due Sept. 17, then a 30-day grace period was given, which the developer missed. Citicorp's parent Citigroup declined to comment to Bloomberg, while Country Garden didn't respond to a request for comment.
A Country Garden official told Bloomberg last week that the developer would not be able to make all of its offshore payment obligations in a timely manner.
However, GimmeCredit said the company has not yet officially declared a default, leaving investors in a state of uncertainty.
"The size of the debt outstanding is very large and widely held, making the discussions complicated,' said analyst Cedric Rimaud. "China is a market that does not have a large experience with defaults, as shown by the complex process with Evergrande."
Evergrande is the world's most heavily indebted real-estate developer and is at the center of a property market crisis that is dragging on China's economic growth, as the Associated Press has reported.
Country Garden had 3,121 projects in Mainland China as of the end of 2022, financed by $50 billion in debt. That includes $10 billion in offshore bonds that are denominated in dollars, $2 billion in Chinese yuan, and 880 million in Hong Kong dollars.
"A lot of the liquidity shown on the company's statements are tied with projects that limit the ability of the group to meet its bond obligations," said Rimaud.
The company's bonds, meanwhile, have been falling and hit new lows between 4 and 5 cents on the dollar, as the following charts from data solutions company BondCliQ Media Services show.
The following chart shows the most active bonds performance over the last 10 days showing greater buying than selling, most likely by distressed investors.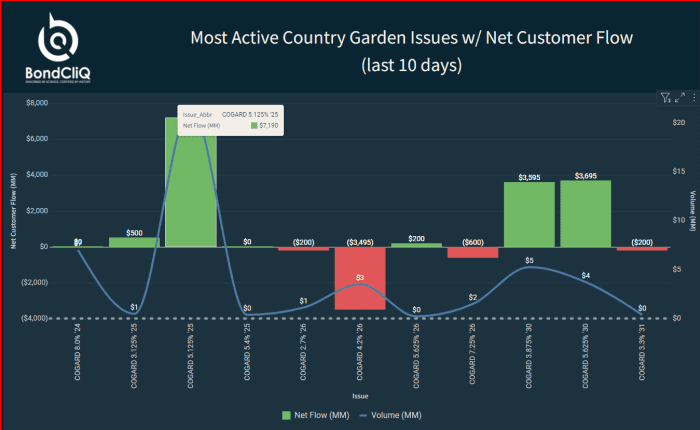 The Hang Seng
HSI,
+0.55%
rose 0.6% and China's CSI 300
000300,
+0.50%
rose 0.5% on Wednesday, paring an initial flurry higher on hopes for stimulus spending after Xi Jinping was reported to have visited the country's central bank.
Evergrande's troubles, which stretch back to 2021, have eaten into the wealth pile of founder Hui Ka Yan. Once worth $42 billion in 2017, Hui's net worth now stands at $979 million, a 98% plunge, according to the Bloomberg Billionaire's Index.